The Finningham Local History Circle was formed a few years ago by a group of enthusiasts to research the history  of the village and surrounding areas.
Normally, the Circle meets once a month in The White Horse to discuss matters of interest or listen to a visiting speaker.
Occasionally, trips to places of interest are organised, the latest of which was to the Transport Museum in Ipswich.  Twelve members of the Circle made the journey and spent a very interesting afternoon on a specially arranged guided tour of the museum.  All the exhibits have an association to the town, either by being manufactured there or used by the Town at one time or another.  The star exhibit was a tramcar which had taken 15 years to rebuild and is now in immaculate condition.  Sitting on the open top deck, one could imagine the conditions our forbears had to endure when travelling around the town.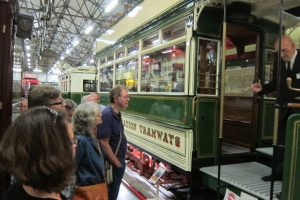 Those of you who have visited our old website, before it was hacked, will know that we have had a large number of enquiries by people who are researching the family trees and have a connection with the village.  The FLHC have been able to help most of these requests for help, either from their own research or from other documents which are available.
It is a great pity that, due to the hacking of the previous site,  all the previous queries and answers have been lost but, hopefully, this work can be renewed.  If you have any outstanding requests for information, please repeat your enquiry, so that it can be researched and answered.
We have received a photograph of Edward William Selsby (see below).  We was a victim of the WW1 carnage and is commemorated on our village War Memorial.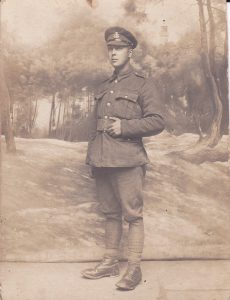 Unfortunately, the History Club no longer meets but there are still a few of us who are interested in the Village and its residents (Past and Present). If you have any queries that you would like us to try and answer, please leave a message.