Friends of Finningham have the following items for hire at the rates shown. "Residents" rates are for persons living in Finningham and Westhorpe. We do not deliver further than 10 miles from Finningham.
Residents Non Residents
Two 12x4m marquees £60 each £70
One 6.8x5m festival tent £60 £70
One 6x3m party marquee £30 £40
Five 1.8×0.8m (6×2½ft) folding tables £5 each £6
A deposit of £100 is required to cover possible damage or other costs incurred. (In the great majority of cases this is refunded in full.)
Cheques should be made out to FSAC and can be posted to Ian Armstrong, Cydia, Gislingham Road, Finningham IP14 4HZ.
Enquiries and bookings : phone Ian Armstrong on 01449 780215 or 07879 670949, or email ianbacton@aol.com. Loan period is normally up to 4 days, we will deliver and collect. It is the hirer's responsibility to find sufficient people (three or more) to erect and dismantle marquees under supervision of a member of Friends of Finningham.
There are occasional circumstances such as bad weather or predictions of strong wind, perhaps combined with an unsheltered site, sandy ground etc., when it is inadvisable, even dangerous, to erect a marquee. At such times either the hirer of a member of FOF can decide not to go ahead. Any money paid will be refunded without question.
On delivery you will be asked to sign the contract (below)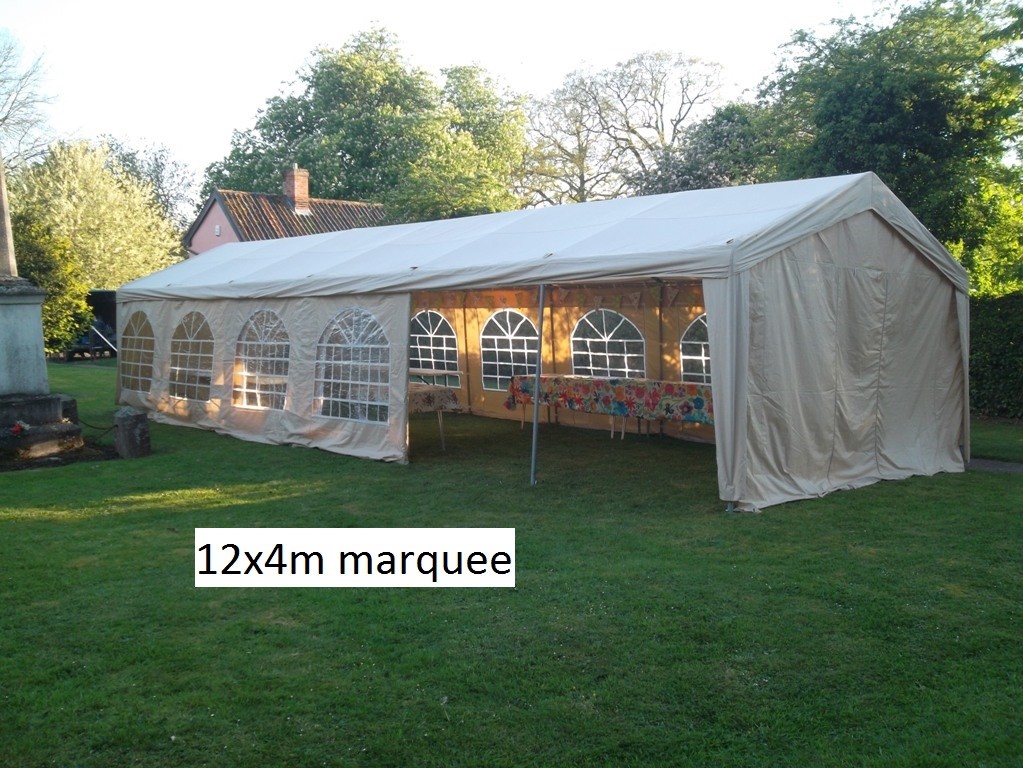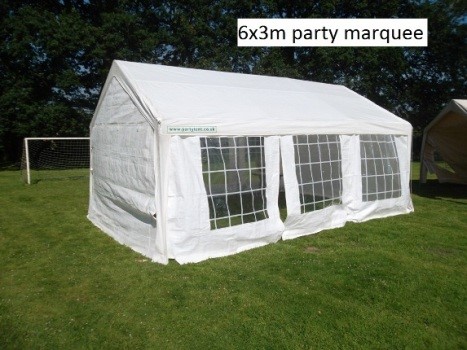 CONDITIONS OF MARQUEE HIRE
All bookings shall be subject to these terms and conditions:
1. The fee for hire is payable at the time of booking. A bond of £100 is also required, this is refundable unless required to make good any damage to the marquee.
2. The marquee is only for use at the recorded address given by the hirer upon booking.
3. The hirer is responsible for any damage to the marquee once collected until returned to storage other than fair wear and tear.
4. While every effort will be made to carry out an acceptable hiring, the hire may be subject to cancellation due to circumstances that are beyond our control. In these circumstances there shall be no liability to the hirer other than return of any monies.
Similarly, if you should have to cancel the hire – don't worry, your money will be refunded.
5. No alteration should be made to the position of the main support poles, base plates or ropes. In particular, the support poles should not be moved or lifted to insert any type of flooring.
6. The hire is made on the understanding that the site intended to be used is suitable for the erecting of the marquee. If any hazards such as pipes or underground/overhead cables are present, the FOF accepts no responsibility for any damage to them.
7. The hirer shall indemnify FOF against all claims for injury to persons or animals or loss or damage to any property however caused arising from the hiring of the marquee.
8. The hirer is fully responsible for making good any damage to the site, its fixtures, installations, access etc., however caused.
9. A marquee is a temporary construction and to a certain degree will not safeguard fully against weather conditions, therefore FOF accepts no claims arising from this.
10. Under no circumstances must fires or candles be lit in the marquee. Barbeques must be kept well clear.
11. The hirer shall contact FOF immediately if anything is found to be wrong upon erection of the marquee.
I accept and agree to the terms and conditions of hire as stated above.
Signature of hirer Date
(Print name)
FOF contact numbers: Ian Armstrong 01449 780215 or 07879 670949